Story
There are weird things in town, people have changed, they looks different.. they looks dead, but they are alive! Find your way in the different levels to discover the source of the « problem ».
GunSpinning VR is a Wild West VR Rail Shooter. It was designed to be played with a VR headset in mind, but you can play in a regular screen too. You will be able to discover four different environments, all more dangerous than the others.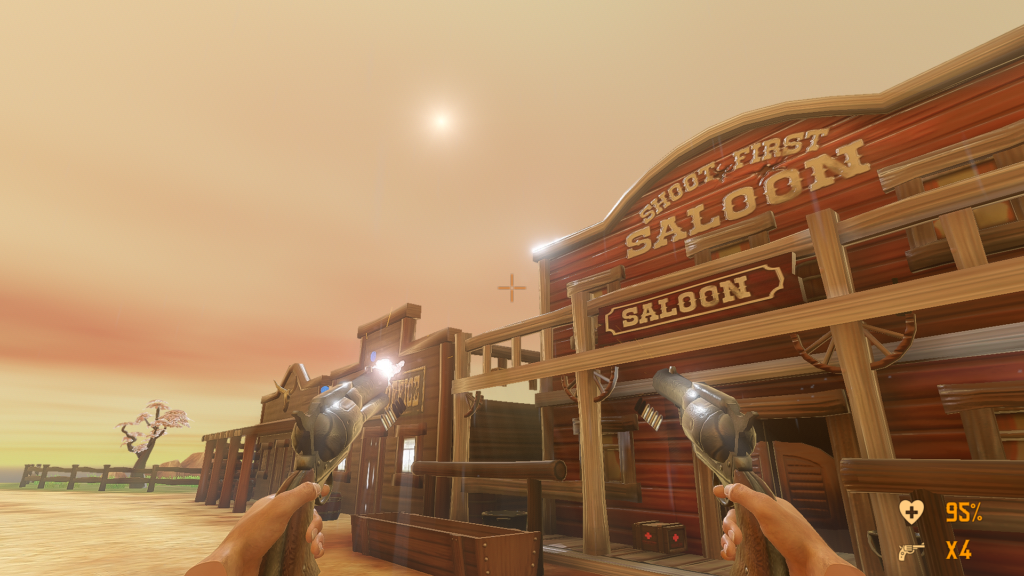 You don't have a VR headset and want to play? Don't worry the game runs perfectly on a regular screen. In that case you have one weapon, no teleportation, and the difficulty is adapted.
Windows Mixer Reality Immersive Headset
Because we believe that the new range of Immersive Headset from Microsoft are awesome, the game is also compatible with them. You can buy or try the game from the Microsoft Store, and play in 2D on your screen or in Virtual Reality with your all new Windows Mixed Reality Immersive Headset.
Nolo VR Controllers
Are you a Nolo VR owner? GunSpinning VR is ready to play with Nolo VR! You just have to follow all steps required by Nolo VR and you're ready to enjoy the game. The Nolo VR integration is not limited to a type of HMD, that means you can play GunSpinning VR with any headset supported by the game.
By example you can play using an Oculus Rift DK1 or DK2 (with positional tracking disabled) and the marker on the headset. The game have a special implementation that doesn't require anything else! No need to use OSVR or complicated settings.
SteamVR on Linux and macOS too!
GunSpinning VR is compiled to use the OpenVR API on Linux and macOS allowing you to enjoy the game with your HTC Vive (or any OpenVR compatible device).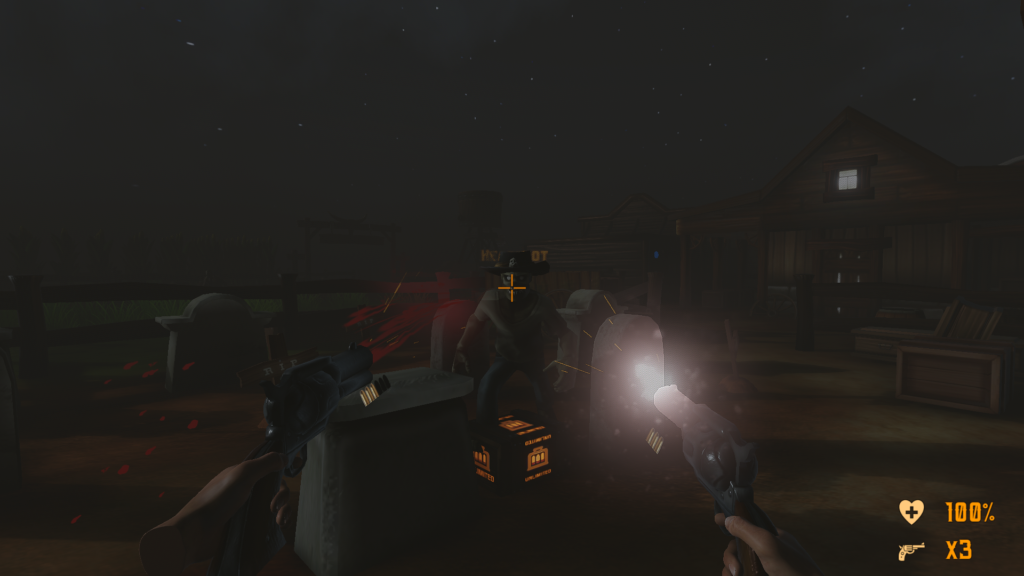 Features
This is a pure VR Arcade game with a small story and a challenging scoring component. The game is available on Windows, including Windows Universal Platform, Xbox One*, Linux, macOS & Android.
Arcade VR Wild West Rail Shooter
Three modes: Story, Survival, Survival 360
Leaderboard
Trial Mode (Full access to the training and demo of the story mode)
Sweet Country musics
OSVR / Oculus Rift  / HTC Vive / *Windows Mixed Reality
Oculus Touch / NoloVR / Ximmerse / Gamepad / Windows Mixed Reality / Speech Recognition**
Android Cardboard / GearVR
Ready for VR Arcade Rooms!
(*) Fall 2017
(**) For limited actions. It requires Windows.
Get the game now
Windows 10 / Xbox One & Windows Mixed Reality users
You can download GunSpinning VR from the Microsoft Store for $5.99, of course you can try the game with the FREE demo.
PC / Android users
You can also buy the game from itch.io for less than $5 but you can also download a FREE demo to try the game on your PC or your phone. The demo is limited to the first level where you'll learn the basics with a mini game. The full game contains new environments with various enemies, bonus and more!